Jakarta, February 26, 2021 – On the occasion of National Waste Awareness Day, Luhut Binsar Pandjaitan, the Coordinating Minister of Maritime Affairs and Investment inaugurated two materials recovery facilities (MRF) in Pasuruan Regency, East Java. These MRFs were built as a joint collaboration with the regional government of Pasuruan, Project STOP, and Nestle, a strategic partner and main funder of the Project STOP city partnership in Pasuruan. Additional funders include Borealis, the Norwegian government, Nova Chemicals, Borouge and Siegwerk.
The facilities will manage waste collection and sortation as well as recycling in Lekok and Nguling municipalities, with a capacity of up to 32 tons per day. The MRFs will collect all waste of which 1,500 tons of plastic waste at full scale by 2022. In Pasuruan, in collaboration with the local communities, Project STOP has so far successfully established waste management and collection systems, including community education program on waste sortation at home and the establishment of village enterprise serving more than 42,000 residents.
"Project STOP focuses on managing waste and increasing social benefits such as health, fisheries, employment and tourism in general. This time, we have established a sustainable, more circular, scalable, and low-cost waste system in Lekok and Nguling municipalities, which are located on the coastline and have a waste collection rate of below 1%," said Mike Webster, Program Director of Project STOP.
More than two hectares of land have been allocated by the Pasuruan regency for the construction of these waste management facilities. "We are very pleased with the completion of the two materials recovery facilities and this shows that multi-stakeholder collaboration for waste management has been working well. We are confident that these facilities can become a learning center for an integrated and fit-for-purpose waste management in Pasuruan," said H. M. Irsyad Yusuf, Regent of Pasuruan. "Furthermore, we hope that these new MFR facilities can help create new job opportunities for the local community".
The MRFs are equipped with waste sorting and processing system, residue handling equipment, and other supporting facilities to process and recycle waste, both organic and inorganic, collected from households and businesses. In the new MRF, the inorganic waste will be sorted, recycled and transferred to the recycling industry, while the organic waste will be processed into compost for agricultural purposes.
The Coordinating Minister for Maritime Affairs and Investment, Luhut Binsar Pandjaitan, said, "The private sector and the government must work hand in hand to solve the issue of waste management. In line with the Indonesian government's ambition to reduce 70% of plastic waste leakage to the ocean by 2025, we appreciate these efforts and initiatives by Project STOP, Nestlé and other partners to support circular economy and to stop plastic waste going into the landfill or ocean."
"We appreciate this partnership, which is in line with Nestlé's commitment to make 100% of our packaging recyclable and reusable by 2025, with particular focus on avoiding plastic waste and our ambition to stop plastic leakage into landfills, ocean, and river. As the first food and beverage company to partner with Project STOP, Nestlé continues to support various efforts to prevent plastic waste leakage to the environment in various areas where we operate so that the socio-economic positive benefits can be sustained," said Ganesan Ampalavanar, President Director of Nestlé Indonesia.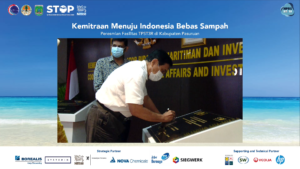 About Project STOP
Launched in 2017 by Borealis and SYSTEMIQ, Project STOP (Stop Ocean Plastics) works with cities to create effective waste management systems that eliminate plastics leakage into the ocean and creates circular systems in Southeast Asia. Supported by industry and government partners, Project STOP aims to achieve zero leakage of waste into the environment, recycle more plastics, be economically sustainable, and create benefits, including jobs, for the local community. To learn more, please visit www.stopoceanplastics.com or follow us on Twitter @endoceanplastic.
About Nestlé Indonesia
Nestlé Indonesia is a subsidiary of Nestlé S.A., the world's largest food and beverage company having its headquarter in Vevey, Switzerland. As a nutrition, health and wellness company, Nestlé has been operating for more than 150 years, and present in 187 countries around the world, with more than 2,000 brands that are working towards the same purpose to unlock the power of food to enhance quality of life for everyone, today and for generations to come.
Nestlé Indonesia was established in 1971 and currently employs 3,600 employees. Nestlé Indonesia has three factories in Indonesia that produce dairy, food and beverage products under well-known brands of DANCOW, MILO, NESCAFÉ, LACTOGROW, CERELAC, KITKAT, BEAR BRAND, etc. This year Nestlé Indonesia is commemorating its 50th years anniversary in Indonesia, and we are proud of our achievement as a successful company that has created value for our dairy dan coffee farmers, business partners, customers, consumers and the Indonesian society. We are looking forward to accelerating our progress together with Indonesia!
About Borealis
Borealis is one of the world's leading providers of advanced and circular polyolefin solutions and a European market leader in base chemicals, fertilizers and the mechanical recycling of plastics. We leverage our polymers expertise and decades of experience to offer value adding, innovative and circular material solutions for key industries. In re-inventing for more sustainable living, we build on our commitment to safety, our people and excellence as we accelerate the transformation to a circular economy and expand our geographical footprint.
With head office in Vienna, Austria, Borealis has 6,900 employees and operates in over 120 countries. In 2020, Borealis generated EUR 6.8 billion in sales revenue and a net profit of EUR 589 million. OMV, the Austria-based international oil and gas company, owns 75% of Borealis, while the remaining 25% is owned by a holding company of the Abu-Dhabi based Mubadala. We supply services and products to customers around the globe through Borealis and two important joint ventures: Borouge (with the Abu Dhabi National Oil Company, or ADNOC, based in UAE); and Baystar™ (with Total, based in the US).
About SYSTEMIQ
SYSTEMIQ is a B Corp created in 2016 to drive achievement of the UN Sustainable Development Goals and the Paris Agreement by transforming markets and business models across three areas: land use, materials and energy. Working with partners across sectors, SYSTEMIQ aims to unlock economic opportunities that benefit business, society and the environment. To learn more, visit www.systemiq.earth.